Selecting your wedding venue is one of the most important decisions you'll make while planning your wedding! Your wedding venue sets the tone for the overall aesthetic of your big day, your wedding season and date, your guest count, your budget, the vendors you'll book and your guest experience.
While the weight of this decision can be huge, if you prepare for your venue tours ahead of time and come in asking the right questions, you'll surely make the best decision for you and your partner.
Prior to touring your top venues, complete the venue comparison printable in this blog post, and be ready to ask your venue some tough questions.
Note: You may be able to answer some of these questions on your own based on the marketing material provided by your venue.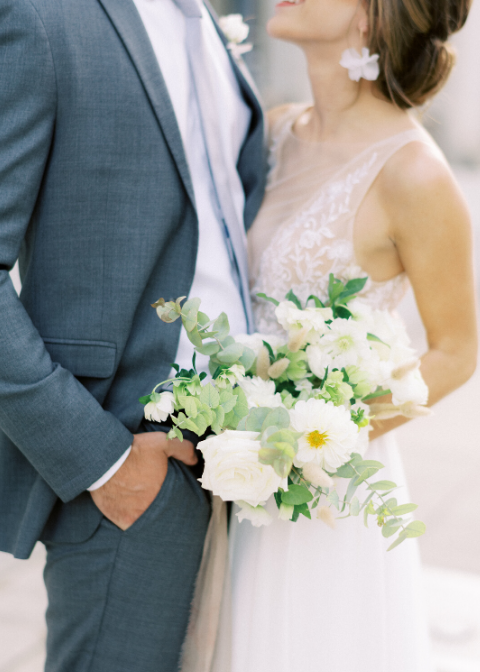 Here are some major things to ask and consider before booking your wedding venue:
What is the cost of this venue? How does it compare to other venues I'm considering?
How many guests can this venue accommodate?
Are there separate spaces for ceremony and reception, or will one space need to be flipped during cocktail hour? If the space will be flipped, where will our guests go in the meantime?
Does the venue align with my style and aesthetic?
If the venue is outdoors, is there a backup location in case of inclement weather?
Do I need to rent a tent for this venue?
Is the reception space (either indoors or outdoors) climate controlled and comfortable for guests?
Can my partner and I get ready onsite? If not, consider the cost of renting hotel rooms or suites to get ready in.
Do I have the venue all day? Will there be any other events on the day of my wedding?
Is a rehearsal included in my venue rental? Can I do a rehearsal the day before my wedding, or will it need to be earlier that week?
Are there locations nearby to take photos, if desired?
Are there designated times for ceremony, cocktail hour and reception, or is it flexible?
What time can my vendors enter the property on the day of the wedding? Consider that floral installations and large design pieces may take longer for setup than just an hour or two before the ceremony.
What time must the music and reception end?
Does this venue require I purchase alcohol through them? How does the alcohol package compare to other venues I'm looking at?
Does this venue include catering in the venue rental package? If so, how does the cost compare to other caterers and is gratuity included?
Is there a cake cutting fee?
Is guest seating included in the venue rental? If so, for how many?
Are any other food service items included? This may include tables, plates, flatware, glassware or linens.
What does the kitchen look like on the property? Is there a designated food preparation area for catering?
Are there any additional catering requirements? Any food they are prohibited from preparing on site, for example, fried foods? Is there a required caterer list?
Is a wedding coordinator or planner required at this venue?
Will a venue coordinator be present on site to ensure the venue is maintained during my event? Do you understand what their role will be as the venue coordinator and how that differs from a wedding planner?
Is there a list of required vendors, or can you select your own?
Are there any decor restrictions? Can installations be hung from the ceiling or adhered to the walls?
Are tapered candles or open flames allowed on site?
Can any rentals or decor items be left onsite overnight, or must all be out by a certain time?
Is there adequate guest parking? Can guests leave their cars overnight?
Feeling overwhelmed? Did you know that you can hire a wedding planner before you select your venue? By hiring your wedding planner first, you can leverage his or her knowledge to help in asking the right questions and selecting your venue.
Don't know where to start when it comes to wedding venues in Raleigh and Durham? Have you taken my free wedding venue finder quiz? It takes less than five minutes to complete, and within 24 hours, I'll send you personalized venue recommendations tailored to your style.
Photos by Adelyn Boling Photography
You also might like "Raleigh Wedding Venue Spotlight"