If you've been reading up on possible wedding venues, or have taken a venue tour, you'll likely recognize the term venue coordinator.
A venue coordinator is (usually) an employee of the venue itself, and is responsible for maintenance of the venue before, during and after your event. If your venue is all-inclusive in nature and provides alcohol and catering, the venue coordinator will also help coordinate those items.
This is different than a wedding planner, who is a professional, insured vendor that is hired by you to help you plan your wedding day and to serve as your expert liaison for all wedding details and vendors.
Some venues require that you hire a wedding planner in addition to the venue coordinator that will be onsite.
While venue coordinators truly understand the venue and the services they provide, they are likely working with many, many couples over the course of your planning process. A wedding planner may take on 10-25 clients in a year, but a venue may have 50+ (often times more) weddings and events in a year. This means that they can't always provide the level detail required when planning a wedding for each and every one of their clients.
It's always a good idea to ask the venue about the responsibilities of the venue coordinator when you take a tour of the space.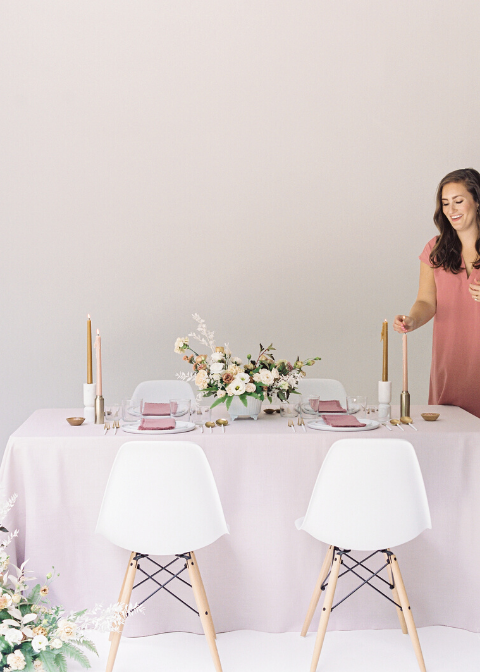 To help you understand what to ask, here are some general roles taken on by venue coordinators and wedding planners.
What a venue coordinator does leading up to the wedding:
Coordinates any services related to the venue itself. This can include catering, alcohol, waitstaff, food service equipment, specialty rentals or linens included in the rental package, parking and valet.
Schedules a rehearsal time before your wedding day.
Provides a rough timeline of your wedding day. This is usually limited to the times related to the venue, for example entry time for vendors to begin setting up, ceremony start time, cocktail hour start time, reception start time and event end time. This typically doesn't include the timeline for each of your individual vendors, photography timeline or other important milestones, like the first dance or cake cutting.
May create a digital layout of the ceremony or reception space.
What a venue coordinator does on the wedding day:
Is present on site on the day of your wedding to maintain the facility.
Unlocks the space at the beginning of the day and locks it at night.
Makes sure the temperature in the event space is maintained.
Ensures the lighting and plumbing are working properly.
Makes sure the property is clean.
Maintains the restrooms, paying attention to toilet paper and paper towel needs.
Ensures vendors and guests are following venue rules.
Works with bartenders to stock the bar if needed.
Manages the team of waitstaff if catering is included.
Sets up tables and chairs.
Sets tables with glassware, flatware and plates, if catering is included.
What a wedding planner does leading up to the wedding:
Helps you select your venue.
Develops your wedding budget.
Creates mood board and color palette.
Produces digital layout renderings for your ceremony + reception.
Provides personalized suggestions for each vendor category, based on your aesthetic and budget. This includes:

Photographer, Videographer, Caterer, Florist, Custom Builds and Installations, Rentals, Lighting, Attire, Dessert, DJ, Band, Officiant, Stationer, Calligrapher, Hair and Makeup Artists, Transportation, Decor, Paper Goods & Welcome Bags

Inquires with selected vendors on availability and pricing.
Reviews contracts.
Attends vendor meetings.
Manages and communicates with your vendors during the duration of your planning period. This includes coordination with the venue coordinator.
Creates detailed timelines for you and your vendor team for the wedding weekend.
Assists with booking hotel room blocks.
Assembles welcome bags for guests.
Provides final layouts based on confirmed head count.
Schedules and manages the final venue walkthrough.
Reminds you of final payments.
Confirms rehearsal date and time with the venue coordinator.
Collects decor items for set up on site and brings them on the day of the wedding.
Gathers tips to be distributed to vendors post-event.
Directs wedding rehearsal.
What a wedding planner does on the day of the wedding:
Serves as the on-site point of contact for all your vendors.
Supervises the setup of the ceremony and reception.
Places favors, decor, place cards, programs, and other items on site.
Keeps vendors on schedule.
Works with the photographer to style detail shots, including invitation suite, paper goods, and accessories.
Facilitates the ceremony processional and cues the wedding party.
Directs all entertainment and catering announcements.
Maintains reception timeline – from dances and toasts to cake cutting and send off.
Ensures tips are given to vendors.
Collects gifts and decor and puts into designated vehicle.
Oversees vendor breakdown and ensures site is clean upon departure.
When couples don't hire a wedding planner from the beginning and rely on the venue coordinator to act as their planner, they often realize far too late that they actually need a wedding planner. This causes unplanned expense on the couple, and a missed opportunity for the planner to provide expertise and guidance to the couple during the planning process.
So, will you hire a wedding planner for your big day?
You might also like "Free Printable: How to Compare Wedding Venues"