In the wedding industry, "film" is quite the buzzword. Photographers worldwide are making the shift towards fine art, intentional photography through film.
But, for many photographers, their journey to film isn't based on popularity. For them, it's a timeless art form. It's a skill that they've been honing for years. It's an artistic challenge. It's a passion.
Locally in North Carolina and in the Southeast, we have absolutely brilliant film photographers. Their passion for their craft shines through in every stunning image they take.
To showcase some of our local talent and the art of film photography, I interviewed five amazing film photographers on what film means to them. Here's what they had to say:
"Film is our medium of choice for two main reasons: the process and the result. As people who appreciate being intentional and present with our time and our work, using film cameras allows us to be fully immersed in the experience of capturing our subjects, because we aren't constantly checking the back of our cameras. Instead, the process of shooting films requires us to rely on our skill and trust that we are documenting something beautifully.
Where the tool of a singer is his/her voice and the tool of a painter is paint, the tool of a photographer is light. To us, film is unmatched in being able to capture and render light, and the resulting image is why we enjoy using film photography in our work. We love the way in which a film photograph can capture light wrapping around a subject and while we try to recreate this with our digital photographs (you can see us try on Instastories with our #filmfriday quiz series!), we can never get quite close enough!" – Radhika and Ian of Radian Photography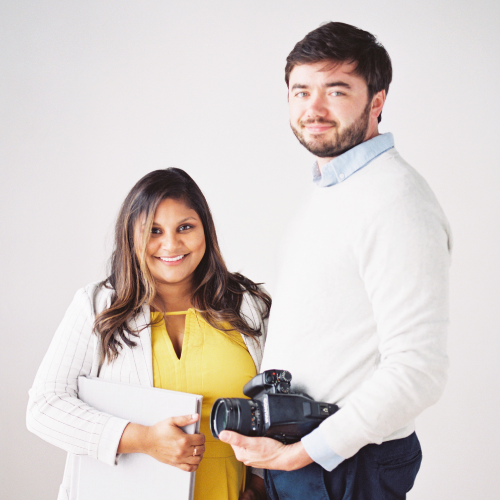 About Radian Photography: We are Radhika and Ian, a husband & wife team of wedding and lifestyle photographers based in Durham, NC. We document the deep connection and powerful work of building a marriage, because we believe in the unseen wonder of intentionally crafted relationships.
---
"I love film for so many reasons; first and foremost for its timeless aesthetic (nobody wants to look back at their wedding photos 20 years later and cringe that they look like the most popular VSCO filter that existed that year) and how it renders colors and textures so closely to how the human eye sees them. Another reason I love film is how flattering it is (everyone looks better on film!) due to its inherent softness and ethereal rendering.
Shooting film is where it all started for me, but I couldn't really appreciate how much I loved it until I made the switch to digital photography and left film behind for a few years. Once I returned to it, I realized how much shooting film changes me as a photographer. It requires me to be fully present, slow down and make sure each shot counts and is executed correctly. It also requires a higher level of skill because I can't check my work by looking at the screen on the back of my camera; I have to rely on my experience and knowledge to ensure I am getting the results I want." – Jamie Vinson of Jamie Vinson Photography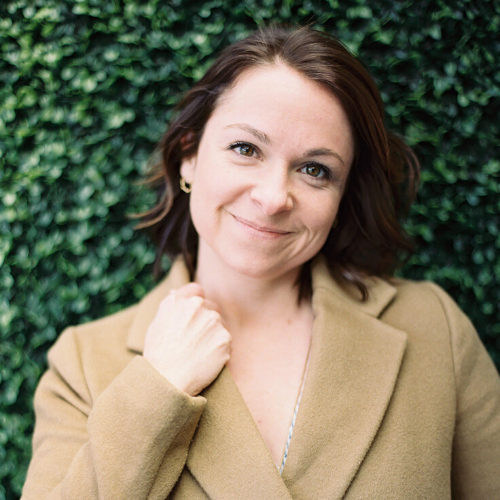 Jamie Vinson is a fine art wedding photographer serving couples throughout the Southeast and beyond. She lives in Raleigh with her husband, two children and an old Cavalier King Charles Spaniel named Winston. When she isn't photographing people in love, she enjoys exercising and going on adventures with her family in their tiny camper. She runs on seltzer water, good coffee and carbs. (Also, wine.)  
---
"I believe the most inspiring forms of art come from a place of passion. That is what film photography does for me – it makes me even more passionate and dedicated to the art of photography. Shooting with film makes me more intentional in capturing the beauty of someone's life in an honest and organic way. I'm a nostalgic type of person. I prefer pen and paper over a digital tablet, a record player over iTunes, and a film camera just kind of falls in line with that. There's something really special about shooting with a camera that my parents, grandparents, and great grandparents used and still, no matter how old the camera is, being able to capture a moment in time and not having the instant gratification is such a rare process that I love to hold onto. There are technical reasons why I choose it, but the truth is, as silly as it may sound, I shoot film for myself. It inspires me, reminds me to create art that is worthy of hanging on living room walls, and helps me connect with my clients. Everyone has a story to tell and a legacy to remember, and I believe it should be beautifully documented." – Amanda Castle of Amanda Castle Photography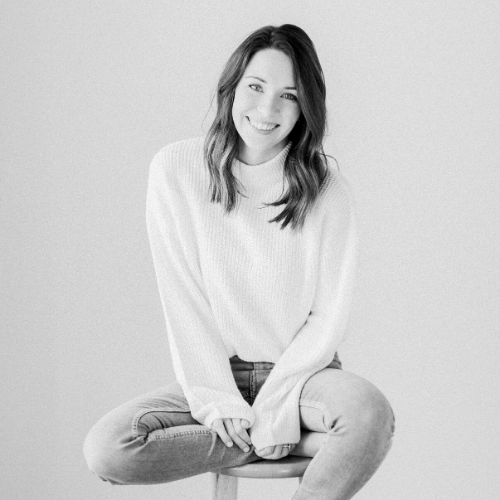 Amanda Castle is a fine art wedding and portrait photographer based in North Carolina who is deeply inspired by great love, beginning with God's love for her. Her passion is to tell honest stories through images and to love her clients well in each season of life.
---
"To us film photography is synonymous with timelessness. Over time, editing styles and trends drastically change, but film does not.
Some of the film stocks we shoot on have been alive and well for decades. We love to look back to photographs we shot years ago because while our skill has improved, the colors and look of the images are so similar because we're shooting on film. In an industry constantly changing and following trends, film stands the test of time.
Your wedding photos become essential to the legacy and memory you leave of yourselves for future generations. We want your great-grandchildren to look at your wedding photos and still be able to be immediately transported back to the moment you became a family, in the same way you were when you looked at your wedding photos for the first time. Not only do we love the way film looks, we believe in its quality and its ability to be a timeless piece of art, treasured for years and years to come." – Ally and Bobby Willix of Ally and Bobby Photography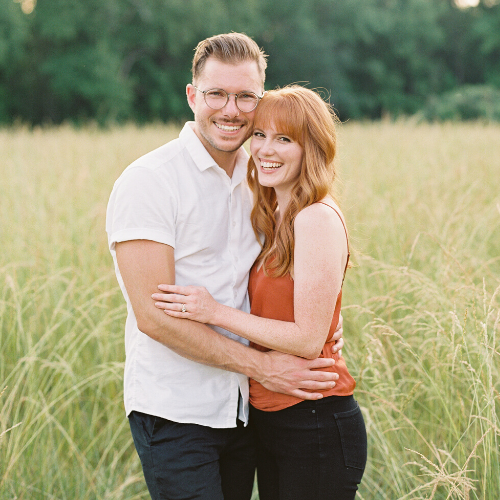 Ally and Bobby are husband and wife film wedding photographers based in the Southeast. They've shot over 100 weddings together and still pinch themselves that they get to celebrate love stories daily. 
---
"If you'd have told at the start of my career that I'd eventually be photographing weddings using film (and loving it), I would have laughed at you. My first interactions with film photography were in a college introductory class. I hated it! All that time in the dark room, swirling chemicals around. That's not what I loved about photography. I loved preserving memories in a timeless and artistic way, and I was not accomplishing that while being trapped in a dark room. 
Fast forward a few years and I was in a rut with my photo work. I couldn't quite grasp what I was missing. After speaking with a friend and listing all the photographers that I loved and aspired too, she surprisingly noted, "you must love film photography then, because all your favorites shoot exclusively film." I was shocked! I didn't love the dark room aspect of film, but was this medium really the missing piece holding me back from my dream images?
Now that I've been photographing with film for almost 5 years, I can confidently say that it has changed the way I think about everything in my business. I approach every situation on a wedding day thinking about how each individual detail, portrait, and precious moment is being preserved in a timeless way because of my decision to incorporate film photography in to my work. Film captures light differently then digital. With a film camera, it's literally the light that is making up the image on the roll of film, rather than a computer trying to guess each digitized pixel. In addition to light, film photography also captures color in a very real and true-to-life way. Nowadays, colors in photos can be changed so drastically with different presets and filters during editing. With film, colors are captured how they are to the eye- vibrant and full of detail. You can see the lace in the whites of a wedding dress or the folds of a lapel on the black tux. I love the depth that film photography can give.
In the end, my couples have been thrilled with their images ever since incorporating film in to my work. Their images will never go out of style because of how timeless they look as well as the emotional depth each photo brings. It brings me so much happiness to see them relive every aspect of their wedding day through their photos, and shooting film has helped me achieve that. – Hillary Muelleck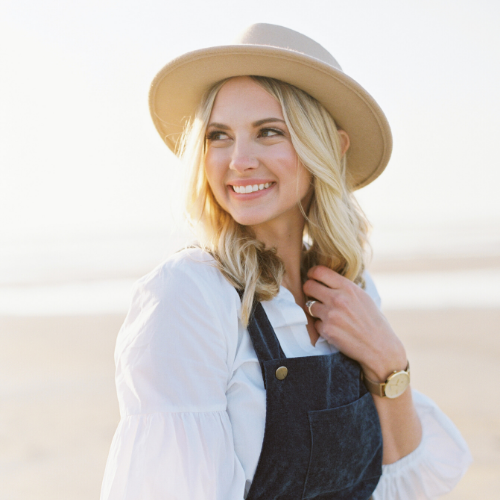 Hillary Muelleck is a North Carolina wedding photographer. When she's not photographing a dreamy wedding, you can usually find her in the middle of a home renovation project, playing with her 130 pound dog, or having friends over for home cooked food and a game of Codenames.
---
So what did you think? Inspired to consider film for your big day?
If you're still unsure of what film photography truly is, check out my interview with Kasey Smith Creative that outlines the basics of film photography.