You just got engaged?! Congratulations!
Planning your wedding is so much fun, and finally getting to marry your partner is even better.
Now that you're engaged, you're probably getting bombarded with questions like, "When's the wedding?" or "Have you hired your [insert vendor here] yet?" Before you spiral off into a Pinterest tailspin or start frantically emailing vendors galore, take a deep breath. Here's where you should start:
1. Announce your engagement.
If you haven't already, make sure that your family, friends and those closest to you know you're engaged! Give them a quick call, or send a personal text. Once you've informed those that matter most, you can post a "We're engaged!" photo across your social channels. If you're planning to use a wedding hashtag, consider posting it with the engagement photo. That way, your family and friends will start using the hashtag at pre-wedding events and you'll have a collection of images after your wedding day.
2. Start to think about your wedding date.
While it's nearly impossible to choose your exact date before touring and checking availability of venues, you can start to have conversations about your wedding timeline. Talk with your partner about what year, season and location you'd like to get married. Check with your family and close friends on dates that are a direct conflict due to personal commitments, religious, cultural or national holidays. Here are some wedding dates to avoid in 2019, 2020 and 2021.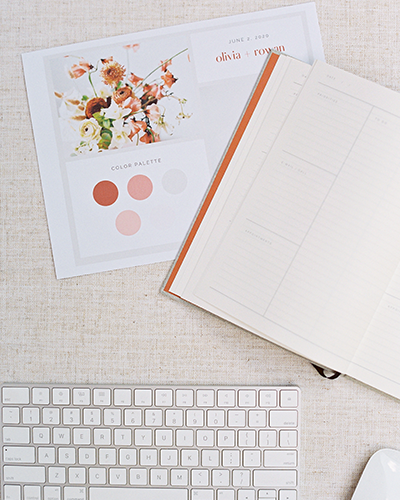 3. Create an email account for all things wedding planning.
Keep all your proposals, emails and invoices organized by creating a separate email address for wedding planning purposes. Make it generic, like coreyandalexia@gmail.com and be sure to give your partner access. Use this email account to communicate with all vendors and for all wedding purchases you're making, so you'll always know where to find that confirmation email.
4. Start looking for inspiration on social media.
But don't go crazy. It's totally cool to start perusing Pinterest and saving images on Instagram, but don't let it overwhelm you. These sites are fantastic places to get inspired, but many times, the weddings featured are either a styled shoot or a high-budget soiree, which can set your expectations too high when starting to build your own budget and plan. Use social media to curate your wedding style at first, but don't get too committed to a specific detail.
5. Make a guest list-timation.
Having an estimated guest count will be crucial for booking your wedding venue and starting to hire vendors. You don't want to book an absolutely perfect venue for 150 guests, only to find out you're going to invite 400.
Sit down with your partner and outline those who will be invited to the wedding. Make an A list for the must-invite people, then create a B list for those who you'd like to invite if possible. I recommend building out the list in GoogleDocs or a cloud-based document, so you can share with your parents for their input after you've taken a first pass.
Pro tip: Even during this initial guest list creation period, make sure to spell guests names correctly. Likely, you'll continue to use this sheet during the planning process – and you'd hate to misspell a guest's name on their invitation or escort card!
6. Set your budget.
Okay, so this is a tricky one. Having money conversations can be tough, but when it comes to your big day, it's a must. Sit down with your partner to discuss the budget. Talk about what you'd feel comfortable spending, and what might be feasible for parents or other loved ones contributing to your big day.
Take your guest list into account – the more people you want to invite, the higher the price tag. Once you and your partner are aligned on the ideal budget, sit down with others who may be paying for your wedding and discuss with them. For tips on how to have those tough budget conversations, check out this blog post.
Once you've completed items 1-6, you're well on your way to planning your big day. Next up, securing your venue and hiring a wedding planner!
---
You might also like "Top Engagement Photo Shoot Locations in Raleigh"